(In which The Devil is not done yet.)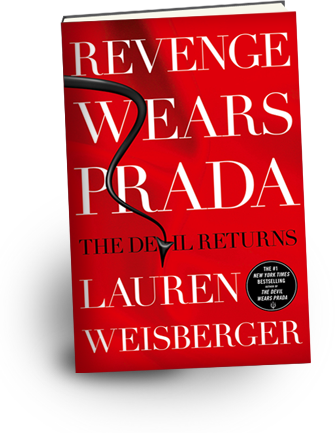 When we say "F*#$ you" to anything and mean it, we'd seriously never want that person in our lives and us in theirs. Which I'm sure is what Andrea Sachs definitely wanted when she spat the deliciously vengeful words to Miranda Priestly, then walked out of Runway magazine like a true badass heroine. Unfortunately, life seemed to have said the same F word to her when digital karma strikes back. Alex, her boyfriend of six years broke up with her, her only friend Lily moved to another state and her parents got divorced.
Fast forward to ten years and Andy, now a successful co-owner (alongside Emily, her previous arch-nemesis from Runway) of The Plunge, an elite wedding magazine. Much more, she's getting married to the handsome and almost impossibly gentleman Max Harrison of the Harrison Media Holdings, one of the leading companies in the US. And the best bit? They are madly in love with each other. She is practically living the life every girl would kill for. (It sounds familiar because it should be!)
Things are going on perfectly - the wedding preparations and The Plunge covering it, advertisers piling up for ads in the mag and a growing reputation of their business in the publiahing industry. Until she read the note written by her future mother-in-law hours before the wedding.
The note wasn't for her, of course. It was for Max. And his mother was begging him not to marry Andrea and marry Katherine instead (the ex he was pleased to see in his bachelor party). Suddenly, Andrea's fairy tale started to crumble.
And then the Prada-and-Hermes clad Devil enters her life, ready to ruin it once again. Armed with a seemingly unforgotten grudge from ten years past, Miranda Priestly offers to buy Andrea's hard-earned life and career to the tune of millions of dollars. Slowly and excruciatingly, Andrea realizes she has to fight to maintain the sanity she thought she lost by working for Miranda as well as to protect the future she envisions for her family with Max. But such decisions don't come without price.
In a sequel that is as gripping and downright hilarious as its prequel (The Devil Wears Prada), Lauren Weisberger once again shows off her fashion knowledge that I will never learn in a million years. Anyway, I still hate Emily and wonder how Andrea could withstand her condescending manners and evilness shrouded by a perfect figure and flawless fashion sense. I hope it's not because of her perfect figure and flawless fashion sense.
With intelligent characters and crisp narration, Revenge Wears Prada proves to be a sequel worth the long wait (TEN years!!). Not only does it teach the value and nature of true love and friendship, as well as the ability of the past's ghost to haunt and torment, but it also insists on the unwavering persistence of destiny and the relief brought by correct (albeit painful) decisions. In other words, we could all learn a lot from this!